Get A Life Ministries, Inc
We believe in the soon return of our Lord and Savior Jesus Christ. Our mission is to share the gospel in any way possible to reach the lost and encourage the church to be watching and keeping our lives holy in anticipation of His return, through our online videos and DVD studies. Most of the media produced by Get A Life Ministries is offered free of charge either through downloads or online viewing. DVD quality video is available for free download on most studies with DVD's available for a small donation.
What then is my reward? Just this: that in preaching the gospel I may offer it free of charge...1 Corinthians 9:18
Upcoming:
The Satanic War on the Christian - New Series Starting Soon!
---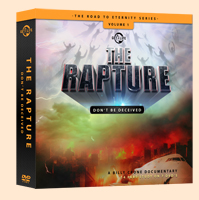 Available NOW!
The Rapture - Don't Be Deceived
14 Studies on 7 DVD's
Approximately 17 hours of teaching
Available in DVD, Book & Study Guide
---
The Character of God Volume 9
Please Don't Go To Hell
2 Studies on 1 DVD
Click to Order

World Religions, Cults & The Occult Volume 7
Roman Catholicism
12 Studies on 6 DVD's
Click to Order
Conference Schedule (S) - Speaker - (A) Appearance with Media Table
2017 Schedule:
Sept 28-30, 2017 - Winnipeg Prophecy Conference - Winnipeg MB Canada (S)
Oct 7, 2017 - Understanding The Times Conference - Eden Prairie, MN (A)
Oct 13-15, 2017 - 1st Annual Blessed Hope Prophecy Forum - Norman, OK (S)
Nov 2-4, 2017 - Southwest Radio Church East Coast Conference - Gettysburg, PA (S)
Nov 9 & 12, 2017 - Calvary Chapel Kaneohe - Kaneohe, HI (S)
2018 Schedule:
June 29 - July 1st, 2018 - Future Hope Conference - Brisbane, Australia (S)

Convenience Christianity
The Final Countdown - Prophecy Watchers
Follow Us